Admin Columns Pro – Yoast SEO Addon
Admin Columns Pro allows you to manage the content displayed on the WordPress list tables. It also provides additional functionality – such as improved filtering, editing and exporting – to these list tables which allows you to better manage your content.
If you want to easily display (and hide) all columns that ship with Yoast SEO from your Admin Columns Pro settings screen, use this plugin. You can also edit your Focus Keyword, SEO title and SEO Description directly from the overview.
If you need to make small corrections or write many descriptions at once, Admin Columns Pro can save you a lot of time.
How to use Admin Columns Pro – Yoast SEO
Admin Columns Pro – Yoast SEO can manage the columns that are being displayed on the WordPress list tables, or as we call them 'table screens', such as Pages, Posts, Users and the Taxonomy list tables.
Start by going to the list table screen. In this example, we will use Pages. Go to the Pages screen and click the "settings" icon with the "edit columns" tooltip.
Admin Column Settings screen
This will take you directly to the admin columns settings screen for that particular list table. The column settings page will give you an overview of all the columns that are shown on the list table.
You can also go to the column settings by opening: Dashboard > Settings > Admin Columns. And then select the list table from the dropdown menu.
You can change which columns are shown on these WordPress list tables: Posts, Pages, Custom Post Types, Users, Media, Taxonomies and Comments. There are over 100 predefined columns to choose from.
Here is how to add such a predefined column:
Go to the column settings screen: Dashboard > Settings > Admin Columns.
Select a "WordPress List Table" from the dropdown.
Click the "+ Add Column" button in the lower right.
Now select the column type by clicking the dropdown menu next to "Type". This will show a list of all available column types for the current list table.
Remove a column by clicking "remove" next to the column's label.
All columns share some common settings, but also offer unique settings per column type.
Common settings: Each column has settings to set their label and width in pixels or percentages.
Unique settings: Some columns have unique settings that allow you to fine-tune how the content is being displayed. For example, these settings are unique to the featured image column.
Advanced settings: A column can do much more than just displaying its content. We added additional functionality that allows you to edit, sort, filter, find and export all your content directly from the list table based on the columns you have added. We will explain each feature in more detail.
With Admin Columns Pro – Yoast SEO, you can change the order of the columns by dragging them.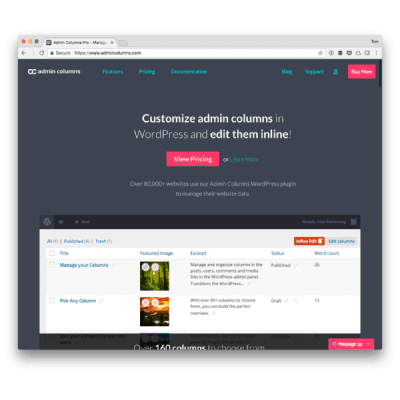 Make a better WordPress site by coming to Toolwp for more amazing products!