Blake von Hauer Theme – Editorial Fashion Magazine
Blake von Hauer Theme is created to go along with them! But don't worry, your horizontal photos too will be happy with Blake.
Blake von Hauer Theme – Editorial Fashion Magazine Theme: Advanced harmony of italic, bold and regular font styles goes along with the general concept very well. Also, different usage styles of the slider and the views that can be achieved in widgetized areas put our theme in a high level.
About Blake von Hauer
Blake von Hauer shapes your vertical images smoothly to fit them always in full canvas without cropping. For horizontal images those are not as high as vertical ones, it's possible to convert them to vertical thumbnails by setting a separated size which can be easily done from your customizer.
Blake von Hauer has a very useful widgetized area: Upper Widgets. You can place your widgets right under the header, in 2 or 3 columns. The widgets you see on our demo site are "Post Widget"s and you can easily change their lens colors.
You have 9 layout options to use for your blog posts. What's more, you can combine different listing styles by just setting the number of posts to be shown in a specific style.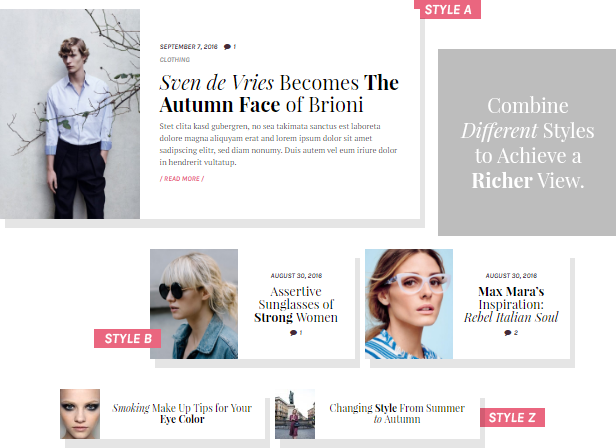 Blake von Hauer Theme Features
Mobile friendly & responsive
Desktops, tables or phones. Works great on any devices! Google loves it!
BvH sliders
A sleek slider that can be used in 3 different positions.
9 blog layout options
1 to 3 column options with fullwidth versions of them.
Unlimited header views
With settings like paddings, logo size, sticky header trigger time ect.
Banner management
Excluding the widgetized areas, you can place up to 5 different banners into 13 different positions.
Font options
All of the Google fonts are incuded in the theme and you can use 3 different fonts at the same time.
Show/Hide/Change
Almost everything, with a single mouse click.
Unlimited colors
Change almost every single Element's color.
SEO optimized
We develop our themes by caring about search engine optimizations.
And so on…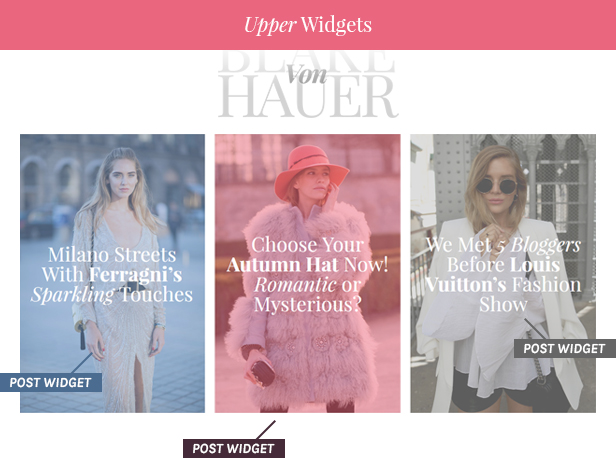 Make a better WordPress site by coming to Toolwp for more amazing products!