HappyForms Pro Theme – Friendly Drag and Drop Contact Form Builder
HappyForms Pro Theme is the simplest way for you to manage and respond to conversations with your website visitors. With over 10 years of experience here at The HappyForms Pro Theme Foundry, we've heard from nearly 1,000,000 businesses what they need from a contact form builder plugin!
We've heard about the wasted time trying to set up tricky forms; the frustration of emails not being delivered; and the let down of not hearing from leads.
That's why we created HappyForms Pro Theme: Your free and friendly drag and drop form builder for creating contact forms, lead generation forms, feedback forms, quote forms, survey forms and more!
Happyforms Pro Theme is optimized to increase conversations with your website visitors. Have peace of mind knowing messages to-and-from are getting delivered without the hassle of spam. You'll be set up and going in 5 minutes or less.
What HappyForms ProTheme can do to grow customer interactions?
More conversations with leads
Forms designed for high-conversion conversations with your visitors.
Super-simple live form builder
No clunky previews. Build your forms directly in the WordPress customizer.
Elementor, SiteOrigin, Divi setup
Incredibly easy setup with all the top WordPress pages and site builders.
Reliable message delivery
Have peace of mind knowing your messages are getting delivered.
With simple submission redirects and a suite of tools to manage responses.
Skip the hassle of spam messages
Built-in Honeypot and ReCaptcha spam protection for messages.
HappyForms Pro Theme Features:
Meet our File Upload part. Limit uploads by file size, file type, and file count.
See data on abandonment rates, device usage, form completion, and more.
Sometimes people leave before completing your form. Capture this data easily.
Split long forms over several pages. Easy drag and drop page creation.
Open your form in a pop-up modal window. Easy to set up with a single click.
Only let people who have a secret password see and respond to your forms.
Set your forms to show and hide at specific times and dates. Great for competitions.
Limit number of form responses
Limit the number of responses perform and set how many responses people can submit.
Unlimited forms and responses
No hidden drip fees! Create unlimited forms with unlimited responses.
Advanced filtering of responses
Search your responses by form, time, status, and device for easy responding.
Poll part with live results
Survey people and display results to visitors, including vote count and percentage total.
Along with every response, see metadata like timezone, platform, IP, and language.
Show or hide form fields or email different addresses with smart conditional logic.
Put a stop to spam once and for all with super-effective and easy-to-use reCaptcha.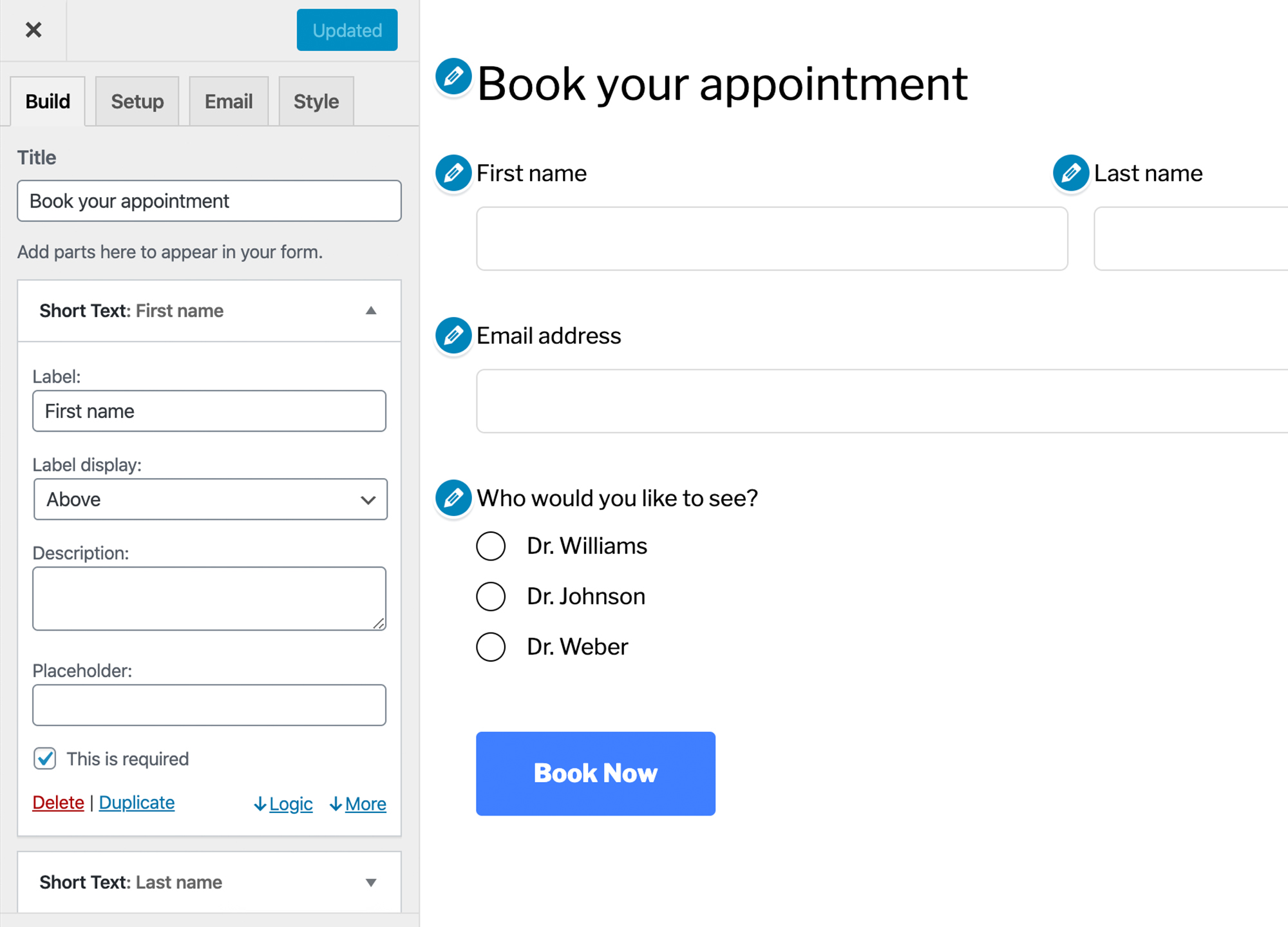 Make a better WordPress site by coming Toolwp for more amazing products!