Webcraftic Clearfy Business – WordPress Optimization Plugin
Webcraftic Clearfy Business – This is a universal WordPress optimization plugin. Since we've started working with clients 8 years ago, we've managed to collect the most useful WordPress optimization functions and combine it all in one. The biggest advantage is that it doesn't replace such plugins as Yoast SEO, Autoptimize, Wp super cache. It, instead, completes them and increases productivity.
Optimize SEO And Speed Of Your Website In 5 Minutes 
Clear website code from trash;
Eliminate the WordPress vulnerabilities;
Speed up search engine indexing;
Fix another plugin's bugs;
Make your WordPress easier, more convenient and faster.
How Clearfy Will Improve WordPress SEO
Based on users' feedback, who optimized WordPress with Webcraftic Clearfy Business plugin, there is good performance growth at the Pingdom, GTmetrix, Google PageSpeed Insights and YSlow services.
In addition, we observed important features:
the page indexing of websites, blogs and online stores has improved;
the pages became better ranking by search engines after duplicates deletion;
websites became cleaner for search engines that was improved SEO and traffic.
Do you want the same or better? Download Webcraftic Clearfy Business for free and see for yourself! Configuring the plugin takes only 5-10 minutes. Just think how long it would be take you to find and configure all optimization scripts, plugins, if you had not the all in one solution Webcraftic Clearfy Business.
More Than 50 Clearfy Plugin Features For Webcraftic Clearfy Business
PREMIUM FEATURES
** Page Cache
** Browser Caching
** Mobile Cache
** Widget Cache
** Minify Javascript – Minifying JavaScript files can reduce payload sizes and script parse time
** Defer Javascript – Eliminate render-blocking JavaScript resources. Consider delivering critical JS inline and deferring all non-critical JS
CODE CLEANUP
Disable RSS Feeds — disables RSS if you using WordPress for website only, not for blog.
Disable Rest API — disables Rest API and removes Rest API links. Use this if you don't need to manage WordPress with third party solutions.
Disable Emojis — emojis generates extra code and slow down the site, even if you did not put any smiley.
Remove jQuery Migrate — if you use several popular plugins that are regularly updates, then you can safely delete jQuery Migrate.
Disable Embeds — if you do not insert videos into the posts or pages, turn embeds off.
Remove dns-prefetch — may improve image loading in some cases.
Remove RSD link — if you create posts and pages inside WordPress then you do not need the Real Simple Discovery function.
Remove wlwmanifest Link — if you publish posts and pages via WordPress interface, 99% this function is not necessary for you.
Remove Shortlink — if you use permalinks, you do not need the shortlinks.
Remove Previous/Next Post Link in HEAD — delete previous and next post links if you do not use the blog.
Remove .recentcomments Styles — remove if you want to change the "Related posts" widget styles.
Minify Html — compresses the code, speeds up the website loading.
Critical CSS — Add CSS files or CSS code to the critical section so that it connects at the very beginning of the page.
WordPress Sanitization — removes invalid and malicious characters from the URLs and file names.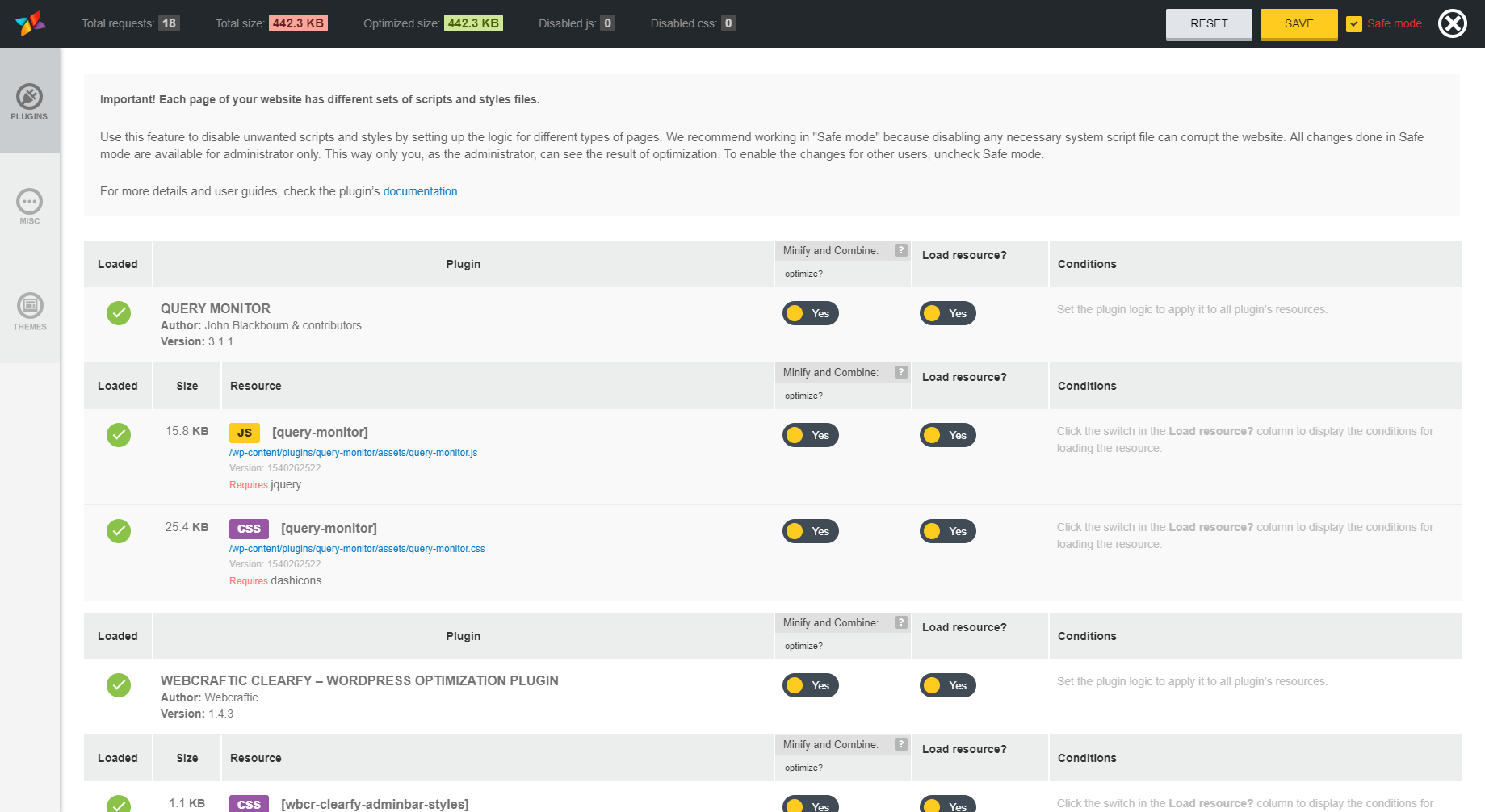 Make a better WordPress site by coming to Toolwp for more amazing products!