WooCommerce FollFollow ow Ups Emails
WooCommerce FollFollow ow Ups Emails will better engage your customers and students by creating complex drip campaigns based upon user interests, course and purchase history to drive more purchases and higher engagement, all with less effort across multiple marketing channels.
Do you always remember to send a personalized WooCommerce FollFollow ow Ups Emails with customers? Do you know who your best customers are and continuously nurture them towards an additional purchase or ensure happiness with their last one? Do you want to know when a student is falling behind or has not yet taken a quiz? Do you add new content and communicate this to your audience? Do you segment your mailing lists based on interest?
If you answered no to any of the above questions, Follow-Up emails will change your business for the better. The Direct Marketing Association reports that email marketing ROI is $43 for every dollar spent, making it the most effective marketing channel for driving sales.
Social media is all the rage, and withWooCommerce FollFollow ow Ups Emails you are not left behind. It has yet to become the direct sales driver that emails are proven to be, but it is extremely powerful as a marketing tool. This is why Twitter follow-ups are integrated into this plugin.
WooCommerce FollFollow ow Ups Emails allows you to:
Email and Tweet your customers and prospects
Track efficacy of your emails (open/clicks/sends/etc)
Automate your marketing communications, so you can spend more time selling
Track customer value to enhance knowledge of your customers
Stay abreast of your students' progress, and communicate updates
Create reminders to ensure no communication is missed
Optimize your email marketing spend with no outrageous monthly fees
Create and manage mailing lists to get a complete 360-degree view of your email marketing
Customize templates for each campaign (or even email) to ensure emails look great on every device
Personalize your emails with built-in variables and merge tags, as well as support custom variables
Enhance the WooCommerce email system and integrate it into your marketing plan
WooCommerce FollFollow ow Ups Emails Features:
Follow-Ups uses the WordPress editor to create your emails, which means you do not need to learn anything new. Know how to write a post? You can write an email!
Group follow-ups into Campaigns
Easily group your different tweets and emails together into easy to manage campaigns.
Sending a reminder or follow-up via Twitter is as easy as scheduling an email. We've created a Twitter type to make it easy to keep your tweet length in check as well. You can also use our included variables to personalize your tweets.
Know thy students, customers, and prospects
Get a detailed picture of your customers and prospect. See the status of every email sent to a specific email address (customer). Know if they opened a specific email or, better yet, clicked. See the value of the customer by seeing a summary of their orders. Create reminders for yourself, your partners, or your employees to take action on that customer.
Want to do more? Wish to integrate your own app Follow-Ups? Using the full-featured REST API that is included with Follow-Ups, you can integrate anything you want and utilize Follow Ups' advanced scheduler and communications delivery vehicle.
Mailing lists
Communications don't stop with just transactional based emails. Also build, cultivate and manage your mailing lists using Follow-Ups. Have a list elsewhere? Import it into Follow Ups. Add emails to multiple lists, schedule emails using the scheduler, and segment your lists to your heart's content.
Awesome integrations
Follow-Ups are directly integrated with many of your favorite plugins and extensions, making it extremely easy to send emails and tweets no matter what plugins you are using – even if you do not have WooCommerce installed. In fact, using our API, you can integrate with any service – just install Follow-Ups and WordPress and you're ready to go!
WordPress
WooCommerce
Sensei
WooCommerce Subscriptions
WooCommerce Bookings
The Events Calendar
Twitter
WooCommerce Points and Rewards
Google Analytics
Plus, many more features!
Compound rules – bought this, but not that
Category/product inclusions and exclusions
Custom from/reply-to for every email
BCC support
1000s of trigger event combinations
100s of merge tags and variables
Support for custom variables
Archive/unarchive emails for future use
DKIM and SPF support
Bounce handling and support
Support, frequent updates, and custom services from plugin authors
Much more…
How to Get Started:
Buy this extension
Download, install, and activate the plugin in your WooCommerce store
Set up your first email or tweet and make it active
Wait for your first emails and tweets to be sent
Watch for your customers to start coming back and buying more!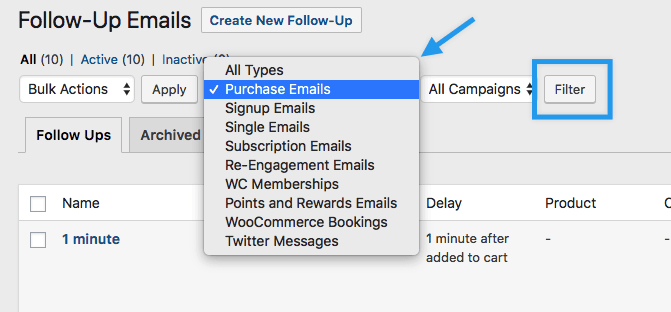 Make a better WordPress site by coming to Toolwp for more amazing products!