Woocommerce Store Exporter Deluxe
Woocommerce Store Exporter Deluxe is good for you – Upgrading immediately makes Woocommerce Store Exporter Deluxe possible to export: Products, Categories, Tags, Brands, Orders, Customers, Coupons, Subscriptions, Product Vendors, Events, Bookings, Commissions, Tickets, Reviews, Shipping Classes, Attributes.
Why use Woocommerce Store Exporter Deluxe?
Select and remember specific export fields to include
Drag-and-drop ordering of export fields
Native export support for 100+ extensions for WooCommerce
Field editor UI to override default export field labels with your choosing
Schedule automatic exports from the WordPress Administration
Schedule exports as attachments in e-mails, securely save to your WordPress Media or outside the WordPress Media directory, upload exports to remote FTP/SFTP servers or POST to cloud services
Schedule exports with fixed filenames
Filename Tags for dynamic export filenames (e.g. %dataset%, %date%, %time%, %random%, %store_name%)
Prepare export template preferences once and assign them to Scheduled Exports
Smart date-based filtering of Orders (e.g. today, yesterday, this week, last week, current month, last month, last 72 hours and manual to/from dates)
Multiple export filtering (e.g. Filter Orders by cancelled and refunded from last month)
Multiple Order Item formatting options (e.g. display all Order Items on a single row, individual row per Order Item, combined Order Item cells)
Export to CSV, TSV, XLS, XLSX or XML file formats
Export individual and bulk Orders from WooCommerce > Orders screens
Export custom Post, User, Order and Order Item fields without coding
CRON export support for integration with POS, accounting and reporting systems
WP-CLI export for listing and executing Scheduled Exports\
Compatible with the latest WooCommerce release and legacy releases; all the way back to WooCommerce 2.3!
GDPR compliant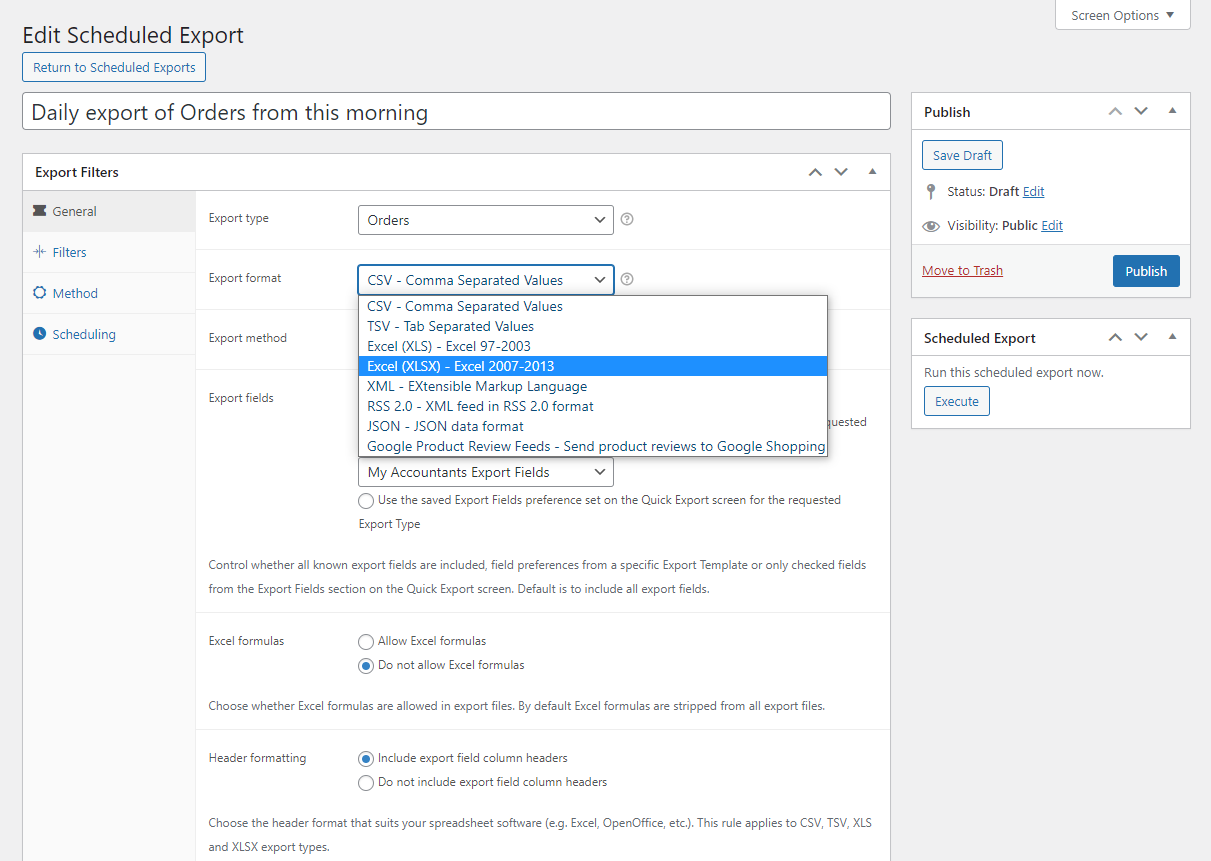 Make a better WordPress site by coming to Toolwp for more amazing products!